What You Need To Know About the CE Mark for Wireless Devices
What is CE Marking?
CE Marking is a certification symbol that signifies a product's conformity with the essential health, safety and environmental protection requirements set forth by the European Union (EU).
Applicable to a wide range of products, the CE Mark is a manufacturer's declaration that their product complies with the relevant EU directives and regulations.
Essentially, the CE Mark serves as a passport for products, allowing them to be freely circulated and sold within the EU.
Why is CE Marking Important?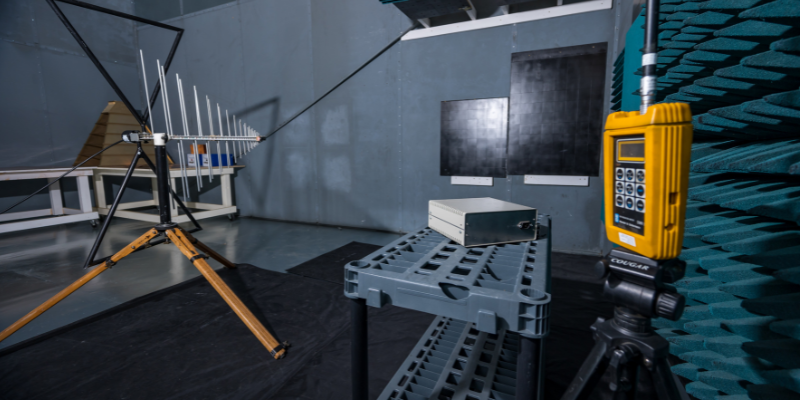 CE Marking is crucial for manufacturers, consumers and regulatory authorities alike.
For manufacturers, obtaining the CE Mark is essential for entering and competing in the European market, as it demonstrates that their products comply with the stringent health, safety and environmental protection requirements established by the EU.
Consumers benefit from CE Marking as it provides assurance that the products they purchase meet high-quality standards and are safe to use.
Regulatory authorities rely on CE Marking to monitor and enforce compliance with EU directives, ensuring a level playing field across the market while promoting consumer safety and environmental sustainability.
CE Marking plays a vital role in fostering trust, reliability and transparency within the European market, ultimately benefiting all stakeholders involved.
CE Mark Directives for Wireless Devices
For wireless devices, it's crucial to adhere to specific directives that regulate their functionality and prevent potential hazards. The primary CE Mark directive for wireless devices is the Radio Equipment Directive (RED).
Radio Equipment Directive (RED) - 2014/53/EU
The Radio Equipment Directive (RED) applies to all electronic devices that intentionally emit or receive radio waves for communication and/or radiodetermination purposes. This directive aims to ensure a harmonized market for radio equipment and guarantees that these devices meet specific requirements concerning:
Types of Wireless Devices That Must Comply With the RED
Wi-fi-enabled devices including computer laptops, smartphones, video game consoles and wi-fi-enabled cameras.

Bluetooth-enabled devices including earphones, computer laptops, mouse and keyboard and Bluetooth speakers.

4G/LTE/5G-enabled devices including smartphones, tablets and routers.

RFID Devices including RFID tags, readers and antennas.

Televisions and radio receivers including broadcast television receivers and radio receivers.

GPS transceivers including navigation systems, handheld GPS devices and vehicle tracking systems.
MANUFACTURERS SHOULD CAREFULLY REVIEW ARTICLE 3 OF THE RED:
Article 3: Essential requirements
Radio equipment shall be constructed so as to ensure:

the protection of health and safety of persons and of domestic animals and the protection of property, including the objectives with respect to safety requirements set out in Directive 2014/35/EU, but with no voltage limit applying;
an adequate level of electromagnetic compatibility as set out in Directive 2014/30/EU.

Radio equipment shall be so constructed that it both effectively uses and supports the efficient use of radio spectrum in order to avoid harmful interference.
Radio equipment within certain categories or classes shall be so constructed that it complies with the following essential requirements:

radio equipment interworks with accessories, in particular with common chargers;
radio equipment interworks via networks with other radio equipment;
radio equipment can be connected to interfaces of the appropriate type throughout the Union;
radio equipment does not harm the network or its functioning nor misuse network resources, thereby causing an unacceptable degradation of service;
radio equipment incorporates safeguards to ensure that the personal data and privacy of the user and of the subscriber are protected;
radio equipment supports certain features ensuring protection from fraud;
radio equipment supports certain features ensuring access to emergency services;
radio equipment supports certain features in order to facilitate its use by users with a disability;
radio equipment supports certain features in order to ensure that software can only be loaded into the radio equipment where the compliance of the combination of the radio equipment and software has been demonstrated.
The Commission shall be empowered to adopt delegated acts in accordance with Article 44 specifying which categories or classes of radio equipment are concerned by each of the requirements set out in points (a) to (i) of the first subparagraph of this paragraph.
Process for Obtaining a CE Mark
Identify all applicable requirements in the RED.

Test the product according to applicable standards.

Prepare technical documentation.

Affix the CE Mark on the product.

Continue maintaining compliance.
GME is Here to Help
We are proud to provide outstanding electronics testing support. With 30 years in the industry, our team of experts is equipped with the latest technology and knowledge to ensure reliable test results. GME is A2LA accredited and supports clients, developing long-term business relations.