Navigating the Path to Compliance: How to Obtain a CE Mark for Your Consumer Electronics
In an increasingly interconnected global market, ensuring the health, safety and quality of your consumer products is not only a matter of corporate responsibility but also a critical factor in gaining a competitive edge.
Among the certifications available, the CE Mark is the pathway to accessing the expansive European market. This mark is more than just a certification; it's a testament to a product's compliance with stringent health, safety, and environmental protection standards set by the European Union.
As manufacturers, understanding the path to obtaining a CE Mark is essential to meet regulatory requirements and, more importantly, to affirm your commitment to delivering safe, high-quality products that respect the environment.
In the realm of CE Mark testing and compliance, specific considerations are paramount for equipment ranging from measurement, control, and laboratory equipment as well as industrial equipment. Similarly, such adherence to CE marking requirements is equally crucial for products within the consumer electronics sector.
In this post, we'll guide you through the comprehensive process of achieving CE Marking for your consumer electronics, ensuring your products meet consumer expectations and regulatory scrutiny.
Examples of Consumer Electronics Requiring CE Mark
Consumer electronics that require CE marking range from simple devices such as calculators to complex equipment like computer servers.
Some examples of Consumer electronics that require compliance with CE Mark directives include:

Desktop Computers and Laptops

Smart Watches

Smartphones

Refrigerators

Dishwashers
It's important to note that the CE mark is a self-declaration where a manufacturer undergoes a testing and declaration process to prove compliance with EU legislation.
While the CE Mark is recognized and required within the European Economic Area (EEA), it is not recognized in the United States. Products sold in the U.S. must comply with relevant federal or state-enforced standards and regulations specific to the country.
Navigating the CE Certification Process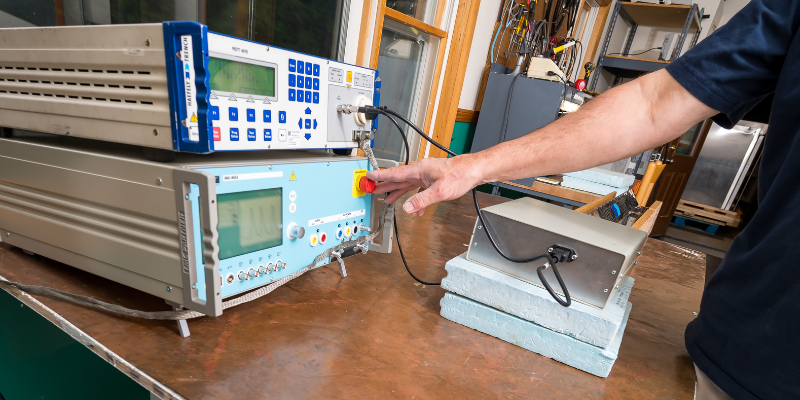 Compliance with CE marking regulations necessitates proactive and continuous efforts on the part of manufacturers.
Here are three guidelines to ensure sustained adherence:

Routine Testing: One of the foundational steps to ensure your product remains compliant is to conduct routine testing. This helps to validate that the product consistently meets the essential requirements, especially if there have been modifications or updates to the product.


Regular Reviews of Regulations: It's imperative for manufacturers to conduct regular reviews of CE Mark regulations. This ensures that you are always up-to-date with any changes or additions to standards relevant to your products both in development and in the market.


Updates to Technical Documentation: The technical documentation contains vital details about the design, manufacture, and operation of a product. This documentation needs to be kept current. Any changes in the product design, components, or manufacturing process should be promptly reflected in the technical documentation.

It's recommended to periodically review and update the technical documentation, ensuring that it contains accurate details including product description, test results and risk assessments.

It's important to remember that technical documentation must be kept for a minimum of 10 years from the date the product is placed on the market unless specified otherwise. Manufacturers must ensure that all updates are archived and easily accessible.
It's also helpful to keep in mind the local language requirements in the EU countries where the product is sold as the market surveillance authorities may request translations of the technical documentation.

In Conclusion
Navigating the complexities of CE marking can be a daunting task, but with the right guidance and resources, it becomes a structured and straightforward process. From understanding the significance of the CE mark — an indicator that a product complies with the EU's health, safety, and environmental requirements — to identifying the appropriate directives and regulations for your electronic product, every step requires meticulous attention to detail.
By adhering to these guidelines and regularly consulting with the latest EU requirements, your business can confidently navigate the path to compliance, ensuring your products meet the highest standards and are poised for success in the European market.

Why Work With Green Mountain Electromagnetics?
With 30 years in the industry, our team of experts is equipped with the latest technology and knowledge to ensure reliable test results. GME is A2LA accredited and supports clients, developing long-term business relations.