How to Choose an EMC Test Laboratory
Have a new product that's ready to hit the marketplace? Do you want to ship this product overseas? Time to choose a qualified EMC, or electromagnetic compatibility, product testing lab to ensure that your product meets global EMC compliance standards and that product emissions will not interfere with other items, like healthcare equipment.
But where to begin?

If you're unsure about how to choose a testing lab, this information is for you! Before we break down some key criteria for choosing your EMC testing provider, let us introduce ourselves! We are Green Mountain Electromagnetics. We pride ourselves on our Vermont cordiality and proven quality in the EMC testing industry. We believe you deserve to find the EMC testing lab that best supports your needs and we are here to help.
Read on to learn more about what to keep in mind as you choose the right testing lab for your business.
Accreditation is more than just a checkbox
It is very important that your EMC testing lab is accredited by a recognized organization, such as the American Association for Laboratory Accreditation (A2LA). Choosing an accredited EMC testing lab ensures that the methods and procedures meet the necessary standards. Accreditation also demonstrates a commitment to quality and continuous improvement. In addition, working with an accredited lab can simplify the regulatory compliance process, as certain governing bodies may require or prefer accreditation. Overall, utilizing an accredited EMC testing lab will give you confidence in the accuracy and validity of the testing process and results.
Demonstrated technical expertise & experience matter
The EMC testing lab you choose should have knowledgeable and experienced staff and state-of-the-art equipment and technology. Having strong technical expertise in EMC testing is crucial for tests to be conducted accurately and efficiently, ultimately leading to cost savings. Additionally, a lab with strong technical expertise is more likely to stay current on industry regulations, equipment calibrations, and care. An EMC testing lab with demonstrated technical expertise is invaluable; it can provide peace of mind, assist you if a unit does not pass certain tests, and ensure correct results.
EMC services that meet your needs
EMC testing labs can offer specific services related to regulations and applications, such as Maritime & Aviation FCC Testing, Power Plant and Military Pre-compliance. Make sure the lab you choose offers the services you need! Additionally, finding a lab with strong customer service skills can improve your testing experience overall.
Turnaround times that align with your goals
When you've got a product ready for the marketplace, unexpected and unnecessary delays are the last thing you want. To minimize surprises, choose a testing lab whose turnaround times will work with your project's timeline. Choosing an EMC testing lab with transparent and efficient timelines will ultimately lead to a smoother and more successful product launch. Additionally, choosing a testing lab with proven engineering expertise will increase the efficiency of the testing process.
Fair pricing
We are happy to say that it is possible to comply with standards without spending a fortune. It's essential to consider the cost of services, making sure it fits within your budget. However, it is also important to weigh this factor against other key considerations, such as accreditation and technical expertise. Keep in mind that poorly planned EMC testing can lead to costly problems in the future, such as having to redo tests or facing fines and penalties for non-compliance. Finding an EMC testing lab with fair prices helps to ensure a more profitable product launch.
How can GME help? Head over here.


Why choose Green Mountain Electromagnetics?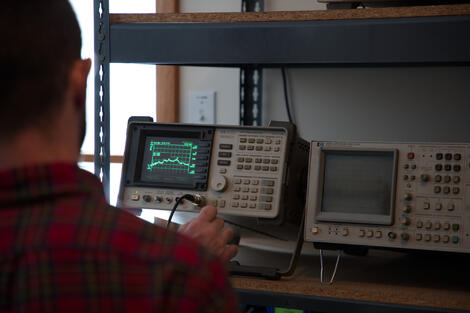 GME provides quality and timely testing. With 30 years in the industry, our team includes EMC experts who are equipped with the latest technology and knowledge to ensure reliable test results. GME is A2LA accredited and supports clients, developing long-term business relations.


Contact us today to find out more about our services!